Birmingham City's penalty hero, Darren Carter, will be attending our session at Ellis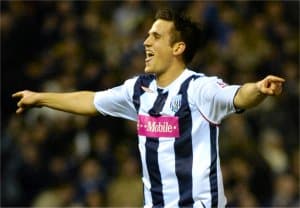 Guilford School in Nottingham. Darren will be helping the coaches to run the penalty shoot out session on Friday 18th May 2012, which is fitting as Darren scored a penalty that they say was worth £90m in the Championship Play Off Final in 2002.
At 17 years of age, Darren placed the ball on the Millennium Stadium penalty spot, took his steps back and placed it into the corner of the goal taking his boyhood team, Birmigham City, into the Premier League for the first time in their history!!
Darren has played in the Premier League for both Birmingham City and West Bromwich Albion. He has also represented England U20 at the 2003 FIFA World Youth Championship.
You can see how the events on that day went along with other goals of Darren's in the video below: