By following the simple guidance provided by the Eat Well Plate, everyone can enjoy a variety of food and be sure that they are having foods from the 5 food groups in the correct proportions.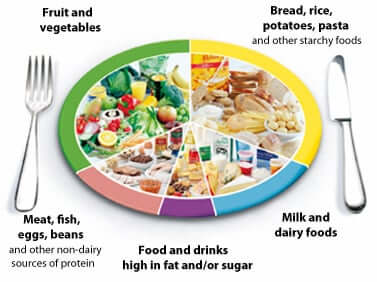 The eatwell plate shows the different types of food we need to eat – and in what proportions – to have a well balanced and healthy diet. 
It's a good idea to try to get this balance right every day, but you don't need to do it at every meal. And you might find it easier to get the balance right over a longer period, say a week.
Eating healthily is about about eating the right amount of food for your energy needs. In England, most adults are either overweight or obese. This means many of us are eating more than we need, and should eat and drink fewer calories in order to lose weight.
Based on the eatwell plate, you should try to eat:  
Plenty of fruit and vegetables

Apple
Banana
Blackberry
Blueberry
Cherry
Grape
Grapefruit
Kiwi fruit
Mandarine
Mango
Melon
Honeydew melon
Watermelon
Orange
Peach
Pear
Pineapple
Raisin
Raspberry
Strawberry
Tangerine
Tomato
Did you know that we should be eating at least five portions of a variety of fruit and veg every day.
Plenty of potatoes, bread, rice, pasta 
bread
crackers
breakfast cereals
oats
pasta
noodles
rice
potatoes
yams
Choose wholegrain varieties whenever you can.
Some milk and dairy foods
milk
yogurt
cheese 
Some meat, fish, eggs, beans
and other non-dairy sources of protein
meat
chicken
fish
eggs
beans
peas
lentils
nuts
seeds 
Just a small amount of foods and drinks
high in fat and/or sugar
butter
margarine
cream
cooking oil and fats
mayonnaise
cakes
biscuits
puddings
pastries
crisps
ice-cream
sweets
sugar
jam
non diet fizzy drinks
This is the smallest section of the plate. Foods in this section are high in calories and contain little of other nutrients. They should therefore be consumed occasionally and in small amounts.